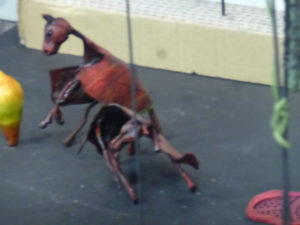 So now I'm here at the Double-Tree Hilton Valley Forge in Philadelphia. I came in on Saturday and had a really nice evening together with good polymer clay friends.
On Sunday night, Synergy4 started with a welcoming reception. All day more and more friends arrived to the venue. I got a lot of hugs and, as always with good friends, we could continue the conversations we started the last time, although in many cases it was over a year since we last met.
– I like your hair! was a common comment. I do not really think it's just the usual American kindness, I think the people who say it mean it. I really like my blue hair myself. It almost feels like it's my natural hair color. As if I had been bluehaired forever without knowing about it.
It is so incredibly fun to meet all these inspirational polymer clay people and now we are going to have real fun and boost each other with inspiration and new knowledge.
Today, (Monday) was the first full day of the conference. I was filled with interesting and exciting presentations. Most impressed, I was of artists Julie Eakes, Emily Squires Levine and Laura Tabakman. who told me about all the hard – but also inspiring – work on the Into the Forest project. They had built a small version in the room where our General Sessions were held. Can you discover my horses?
On Monday afternoon, I held my own Break-Out session where I featured horses in the art and my own Mosebacke Horse Sculptures. You can see the presentation by clicking here.