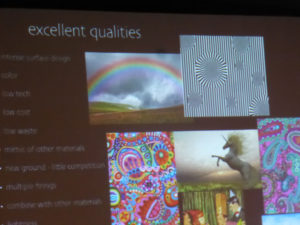 What's most amazing with the Synergy conferences are the meetings with inspirational people. Here you meet everyone – from the most famous artists in polymer clay in the world to those who are completely novice. I remember a woman I met last year in Bordeaux at the EuroSynergy2 conference. She had been working with polymer clay for a total of two weeks when she signed up for the conference. And one of the amazing things about her was that she had learned things that we others did not know about in the polymer clay!
It's the same here at Synergy4. Everyone is talking to everyone and all learn from each other and admires each other's successes in the exploration of this very special clay. In this way, we all develop in the areas of for example design, structure, technology and business manners.
At this conference there is a part called Retreat Plus! that is aimed at those who prefer to work with the clay together with others while the ordinary conference program mainly is different types of lectures where we theoretically exchange knowledge to develop, each in the way you choose.
Today, I began listening to Ellen Prophater who showed a whole universe of possibilities regarding the magic techniques surrounding Mokume Gane. Originally, it was a technique used to make amazing patterns in the iron of swords, but as much else it easily translates into polymer clay.
Bonnie Bishoff gave a very personal and rewarding lecture about A Collaboration of Strengths: Polymer Clay Meets Metal, where she not only told about metal but also wood and other materials that combines well with polymer clay.
Loretta Lam had talked to several different polymer clay artists and had compiled their thoughts on artistic development and how to do business under the title Creativity Takes Courage. It was very inspiring to listen to all these stories from the real life and different approaches to creation and creativity. We learned how different well-known artists had gone through the different types of problems, opportunities and challenges that life creates. All the time with the art as a goal and vision.
Ana Belchi talked about "What About Teaching?" and discussed the very interesting question about how we actually train people in polymer clay at our workshops. Too often, the teacher shows in detail how to create something, and then the students are supposed try to create exactly the same objects, but is it really good for their creativity? And what does it tell you about copying other people's work? Can there be another way of teaching creativity and artistic development? Ana gave a lot of good thoughts and tips on how to develop our approach to education.
And finally Georg Dinkel showed his amazing creations where he incorporates modern technology into environments that looks like something from the Catholic Church's world. The latest creation is about the strange creatures from hell…