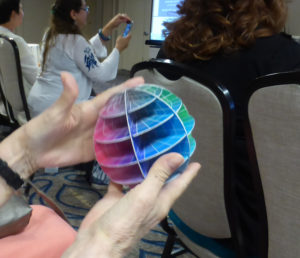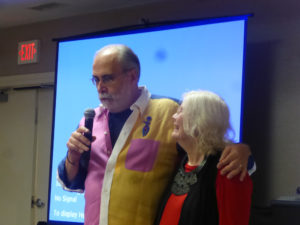 The last day at Synergy4 started with the celebration of Nan Roche, whose book "The New Clay" celebrated its 25th anniversary. There are still some copies available on the market, for example, you can order via Amazon.
– Polymer clay is a 21th century material. It takes time to gain acceptance, but it will, Nan Roche says.
Thanks to internet we are now emerging from wondering What will the clay do? to talk about design, color and expression.
Maggie Maggio talked about "The ABCs of Color: Learning the Language of art. She wants to transform how color is being taught to children.
– They need to learn the language of art, because that's what color is, Maggie Maggio says.
She showed how all our current color wheels are missing an important sector – even the rainbow does. Maggie proposes a totally different way of thinking about color – forget what you earlier have learned about primary colors. Maggie talks about a paradigm change where there with modern primaries can be more than one complimentary color. And we all got one CMY Mixing Triangle of our own! 😊
In Katrina Salins class about Creativity and Collaboration we did just that: We were creative and we collaborated, covering small glass jars with motives that we had collaborated in creating with inspiration from four different photos. Of course we signed our creations – and the one that is "mine" will be a very precious souvenir from this conference to me.
At the IPCA Awards George Dinkel was the over-all winner! I think he got five of the prizes and he is soooooo worth it because or the totally wonderful and crazy worlds he is creating.
In the last session for the day Jeffrey Lloyd Dever guided us through a discussion about Common Ground and Distinctive voices. What are the differences between polymer clay in USA and in Europe and where are we going? Where do we want to go? Which are the most important steps?
I thought about the Maker Movement and all the Cosplay-people. Many of them are using polymer clay – can we come to a better understanding of the material by cooperating with them or will it make it harder for us to make polymer clay be understood as a "real" artist's material? I also said that I did not see any problem with different perspectives, we are both artists, sculptors, jewelry designers and so on at the same time – what is most important depends on the situation.
It is the same for me as a person. I am a woman, a mermaid with blue hair, an artist, a Swedish person and much more at the same time – which of these properties that are the most important depends on the situation.