For three days I've been nurturing my soul by going to Sweden's biggest music festival – Bråvalla Festival. It is organized forty kilometers from here, and since Östgötatrafiken offers free public transportation it is easy both to get there and to get home again. I think it is quite nice to be able to sleep in my own bed at night and not having to sleep in a cold tent.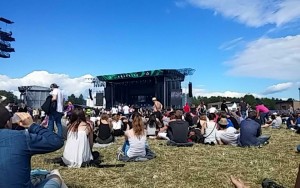 At Bråvalla, you could choose between over 90 different artistic performances. I could of course not attend all of them, but I saw about 25. Those that warmed my heart most was Rise Against with their wonderful commitment, humility and interaction with the audience. Muse were also fantastic. And I loved to see Sabina Ddumbas genuine joy. Robbie Williams declined, however a lot in my esteem.
It is not just the music that makes your soul so happy. There are also all the lovely people and all the dining options with exciting food and exotic flavors. And of course the good coffee.
I am already longing for next year's festival. But I also long for my studio table. This type of rest for the soul makes creativity come to life.