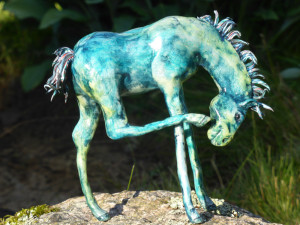 Here he is – the Balancing Foal!
I really love him – he has been so helpful during his creation, telling me a lot about how he wanted to be like.
In these photos you cannot really understand how much he is shimmering – it looks like there is something wrong with the photos with all this white – but it is how he shimmers in the evening sunlight.
As he is a foal he has very long legs, but as you can see, he is already able to be balancing on three of them. He is made of polymer clay with an armature of steel wire and aluminum foil. The reason he is shimmering is that I have put silver leaf metal inside the clay, covered with a thin layer of translucent clay. I have also used alcohol ink in blue and green o enhance the shimmering effect even more. He actually is like a gem! His head is extremely sweet with very thoughtful dark eyes.
I'm not really sure if I will put him in the webshop along with other Mosebacke Horse Sculptures. I am considering giving him to a charity auction at the conference EuroSynergy in Bordeax in a week instead. Let's see what I do…
Height: 17 cm