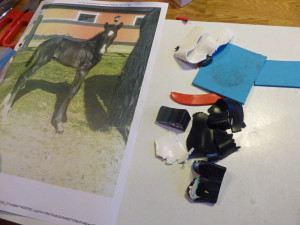 Those of you who follow me on Instagram and Facebook have already seen some pictures and movies from the little foal's birth. But now you will be able to follow the whole creation here in the blog.
It all began with an extremely sweet foal who was born. I have for a long time thought about creating foal in polymer clay and when I saw the photo of the newborn foal on one of my friend's pages at Facebook, I knew that now was the time! I asked if it was OK to make a Mosebacke sculpture of the little foal and to my great joy it was ok.
It was very exciting to create this little creature. I often get a feeling as if the sculpture itself is helping with the creation, and this time I felt like I got more help than usual!
During the creation of this little horse I made some Facebook videos. Below, you will find the first one. Unfortunately, I'm only speaking Swedish in the video, but I hope you can understand a little bit anyway. I mainly speak about what polymer clay is and how I make the very first basic shape by using scrap clay.