I have often been told that my horses provide comfort and light up life in difficult situations.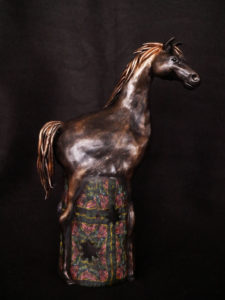 That makes me so happy and thankful – because that is a proof that I have managed to transfer the magical properties from a living horse to my horse sculptures. It is not everyone who is lucky to have real, living horses around them all the time.
With these healing properties in mind I created Lighthouse – the horse that lights up your life. It has a golden shimmer that shows you there is something special about this very horse, and when you look at her (yes, it's a female horse) face you understand the calm and the happiness that she sends to you.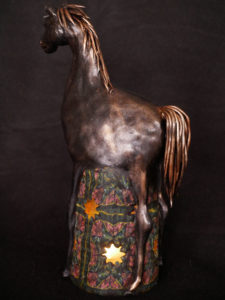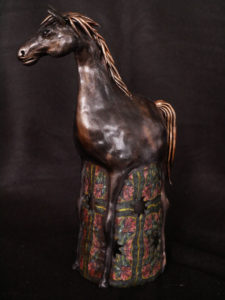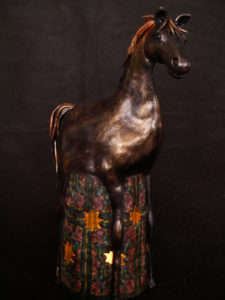 And it can actually light up your darkness as well. Place a small battery-powered candle inside the sculpture and it becomes an exciting lantern.
Lighthouse
Lighthouse är en unik hästskulptur från Mosebacke Horse Sculptures, skapad i polymerlera. Som alla andra hästskulpturer härifrån finns den endast i ett enda exemplar och är signerad av konstnären EvaMarie Törnström.
Lighthouse är en utsökt hästskulptur som skimrar i guld. Basen är av glas, som är täckt av canes (mönster skapade i polymerlera) och som har små öppningar. Det blir mycket vackert att sätta in ett litet batteridrivet ljus under hästen, som du ser på en del av produktbilderna, därav namnet Lighthouse.
Lighthouse är 21 cm hög.