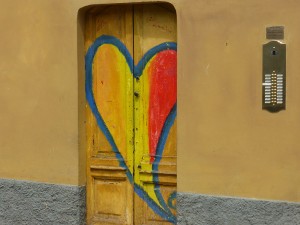 Jag får ibland frågan: Hur kommer du på vad du ska göra?
Det är ju inte helt lätt att svara på, men det handlar nog om att hela tiden vara öppen för nya intryck. Det är väldigt få – troligen inga – saker som man skapar som kommer direkt ur ett intet. Det handlar mer om att man på olika sätt kombinerar det som redan finns på ett annat sätt.
Ett exempel är den T-shirt där jag målade ett hästhuvud med mycket klara färger. Inspirationen till den kom från en målning som Consuelo Okdie hade gjort och som föreställde ett hundhuvud i mycket klara färger. Så kan man måla en häst också, tänkte jag. Och så tänkte jag att det skulle vara fint på en T-shirt. Och så målade jag en häst i klara färger på en vit T-shirt. Färgerna lånade jag från Consuelo, och hur en häst ser ut vet de flesta. Men exakt hur kombinationen av det här skulle bli var min egen idé och mitt eget uttryck.
Ofta är det också så att man lär sig mer av sitt eget skapande. Om man ställer upp alla mina hästskulpturer som jag gjort under de senaste åren kan man (i alla fall jag) se en klar linje genom dem, där jag använt kunskaper och erfarenheter från tidigare skulpturer och byggt vidare på dessa med nya idéer och ny inspiration. Och ibland är det som om jag genom sökandet liksom kommit vid sidan av vägen. Då blir det att jag går tillbaka, tar upp tidigare tankar och idéer igen. Men det blir aldrig på exakt samma sätt som när jag var på den nivån tidigare. Det blir alltid på något annat sätt. Och det är det som är så spännande.
Även om man kan känna lite idétorka eller att inspirationen inte riktigt flödar någon dag behöver man inte vara orolig. Det kommer igång så småningom. Tills dess kan man alltid öva så att man blir bättre.
The legendary cellist Pablo Casals was asked…
The legendary cellist Pablo Casals was asked why he continued to practice at age 90. "Because I think I'm making progress," he replied.