I am often asked why I only create horse sculptures. The answer is that the polymer clay is such an extremely versatile material, you can create almost everything you can image in this clay and at the same time I am a very creative person. Because of that – to not go crazy about all possibilities – I have given myself the limit, and the challenge, to always make something that can be called "horse" when I create in polymer clay.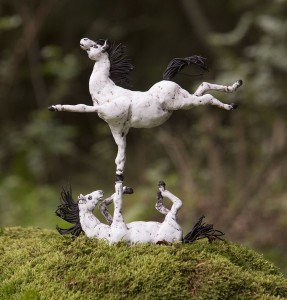 At the same time all horse lovers know that also a horse is something very versatile. Horses stand for beauty, power, ferocity, peace, passion and compassion. And lots of other things. We humans can learn so much from and in interaction with horses. There are so many stories of horses that heal people with troubled souls and personal problems.
Just to walk into a stable,  get close to a horse, feel its charisma and you instantly become calm and focused. Many people can testify that the horses mother excellent leaders – not only for horses, but also for people.
It is all this and even more that is my challenge when I create my very personal horses in polymer clay. Sometimes I think about a place or property and try to show it in the shape of a horse. Sometimes the model is a real horse and I try to reflect its personality and talent in the sculpture. Sometimes the model is actually a real person and tI ry to create a portrait of him or her in the shape of a horse. Often I try different techniques and explore the unlimited possibilities the polymer clay offers – it is a real joy filled with the challenge of using a horse as means of expression!
And I get even more joy from all the wonderful comments I get from people who like my horse sculptures! Thank you all for being there and for giving me this support that makes me want to develop even further as an artist!
Note 1: "It's all about horses" is also the title of my presentation at Synergy4 in Philadelphia in August 2017.
Note 2: Unfortunately you cannot buy any of the horses in this blogpost because they all have got new homes.