Today I went to two workshops that created many new thoughts and ideas. To me, it is not just about the techniques shown in the workshops, but it is also about the possibilities and impossibilities I see with the techniques, and you also learn a lot and get insoiration by how the other course participants take on the tasks. Even though we work with the same tasks, the results are completely different – and maybe that's what art really is? 😊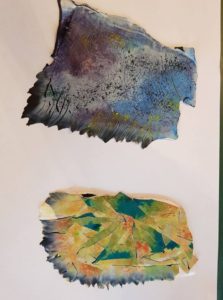 Cecilia Leonini – Paplito's technique
During this workshop we worked on creating different types of patterns using alcohol inks and soft pastels. It was fascinating to follow how the effects evolved over time. The others in the group combined their patterns into very beautiful jewelry, but I was pleased to photograph my patterns as inspiration I will use in the future for some kind of pretty wild horses.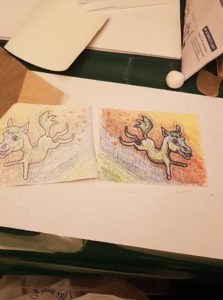 Monica Resta – Canvas Technique
Monica has worked with polymer clay for an extremely long time. It is she who has the YouTube channel Mo Clay where you can find lots of tutorials on different techniques. Today we used permanent pencils and aquarell crayons on canvas, which we transferred to white clay. As usual, the others created stunning jewelry and I just saved inspiration and trying to figure out how to use it for future horse projects.