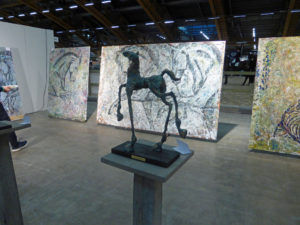 Now I am home again after five wonderful and inspiring days at Elmia Scandinavian Horse Show with top class showjumping and dressage.
Among many other exhibitors at the fair, we were four equine artists in an art gallery.
In the photos you can see in the background Mia Jonshagen's stunning paintings. Lena Palmgren showed her beautiful horses in bronze and papier mâché. LUC of Sweden creates very special jewelry in gold and silver for those who love horses.
During these five days I really had the opportunity to showcase my horses to delighted horse enthusiasts and several of my sculptures got new owners. Moreover, a lot of Christmas gifts this year will probably be Mosebacke Horse Sculptures. 🙂
Because polymer clay is so unusual in Sweden I repeatedly explained and demonstrated all the possibilities with this special clay, especially its softness which gives the opportunity to create really fine detail without breaking it. I could also show that the colors are in the clay – the intricate designs you can see on many Mosebacke Horse Sculptures are not painted but are created with the clay itself.
Here is a little video on how I create a Mosebacke Horse Sculpture: