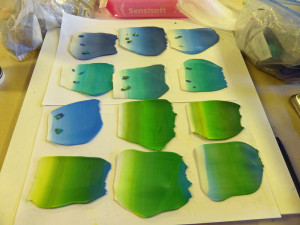 Today I have been involved in a historic event! For the first time in world history, polymer clay-interested persons from the Nordic countries gathered at a joint conference. It was Karolina Söderberg, who also runs Hobbyrian, who took the initiative.
We were about 20 people who met to exchange knowledge, ideas and inspiration. The experience of polymer clay was very wide spread in the group, one of the participants had been working with polymer clay for twentyfive years and for a couple of the participants it was the very first time they put their hand on the clay.
We all worked more or less independently during the day, and there were a lot of sharing of experience. I will speak about creativity at EuroSynergy2 in Bordeaux this summer, and I gotnduring the day tons of inspiration and many new aspects that I can use in my speech. Thank you all for sharing!
We were also shown two different techniques. Helle Messerschmidt showed "Sutton slice" and Karolina Söderberg showed "Zero distortion". And of course, everyone helped everyone with everything.
At first I did not really know what I wanted to create, I hadn't thought about it in advance, but then one of the Norwegian participants showed me a small, pointed tool. She did not know what it was called, and I did not know either. But it gave me the inspiration to a new horse, so most of the day I made skinner blends in twelve different variations, which I cut up and rolled to about a hundred "mane-straws".
I will not finish the horse while I'm here at the Camp, but those who were here will probably recognize the mane on the actual horse when I present it in this blog.
For more photos from the Nordic Poly Camp, click here to see them on Mosebacke Horse Sculptures Facebook page!