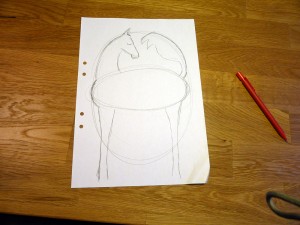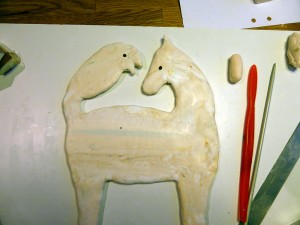 Jag prenumererar på tidningen The Polymer Arts – The Magazine for Professional and Aspiring Polymer Clay Artists. I senaste numret Winter 2014 fanns en artikel av Joseph Barbaccia där han beskriver hur han gör sina tavlor av "strands" – strängar av polymerlera. Jag har tidigare sett hans tavlor och inspirerats av dem, funderat på att prova på tekniken någon gång. Nu, när tidningen bjöd på en välskriven artikel där Joseph mycket generöst och utförligt beskrev hur hna utarbetat sin speciella teknik beslöt jag mig för att prova. De tips och råd som han gav har med all säkerhet gett mig möjlighet att undvika åtminstone några av de problem och fallgropar som han råkar ut för när man prova på något helt nytt. Därmed inte sagt att jag lyckades med allt… men det får du läsa om senare.
Eftersom jag är jag ville jag naturligtvis göra en häst. Och jag ville inte heller göra en tavla. Jag ville på något sätt använda Josephs strand-teknik men ändå jobba tredimensionellt.
Lösningen blev att göra en ganska platt och rättuppstående häst. Jag började med att skissa en grundform, och sedan skar jag ut den i wellpapp för att därmed kunna ge stadga till själva hästen. Wellpappen klädde jag in med polymerlera som jag blandat till så att den såg lite gulaktigt elfenbensaktig ut. Detta för att ha något som polynmer-strängarna skulle kunna fästa vid.
Och som vanligt hände något oväntat: Jag hade tänkt mig att jobba med en oval form där hästen vände sig mot sin svans – men vad hände? Det visade sig att det fanns någon form av figur i svansen som hästen kommunicerade med! Undrar vad det är?