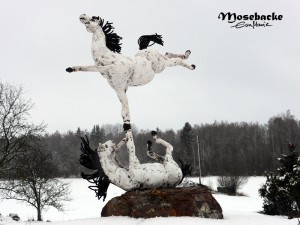 For several years, I only sold my Mosebacke Horses to Swedish customers. I had made that choice because I appreciated the proximity to the horse owners – especially when I made the horses in commission and in close collaboration with the customer. I also had in mind that it probably was easier to ship to Sweden.
But now, internet has inspired more and more people to use cross-border web shopping. Take me, for example; I buy all my polymer clay directly from Germany. The same applies to many other things I buy – both privately and for my polymer clay business. Furthermore, most of my visitors to the Mosebacke Horses blog are not from Sweden; I have lots of visitors from eg Ukraine, Russia, Hungary, United States, Germany, China, Israel, Poland and the Netherlands.
So the question was: Why not make the webshop international?
So I did. From today I ship my Mosebacke Horses (and Moose) worldwide.
Welcome to Mosebacke Horses webshop! It is open 24/7 and offers PayPal online payment.