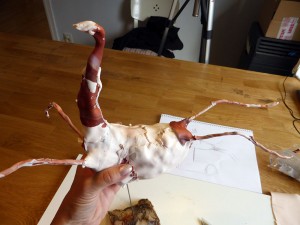 In my last blog post you could see this very happy horse with a body of aluminum foil and legs of steel wire. Now it's time for this horse's first skin. As only the shape, not the color, is important at this stage of making a Mosebacke Horse, I use scrap clay.
Scrap clay is clay that you have used for example caning. When you make canes you often get distortion of your pattern in some of the clay. It can't be used as canes, but it still is clay with all its clay properties, so it is ideal for sculpting the correct shape. When I'm out of scrap clay I often use a clay that has a soft pink color, because it allows you to clearly see the shapes you create.
I call this part of the work "the first skin" as this skin shows the shape. The next skin, "the second skin" vill give the colors and the surface structure to this horse.