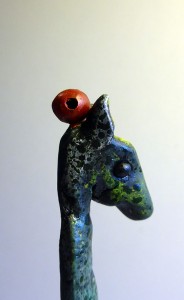 I had one of these bad days today, searching for my creativity but I could not find it. It was one of the days when you really are questioning yourself, wondering why you ever thought that you could be an artist.
Several times I tried to sit down at the table in my studio, waiting for the inspiration to come. I tried some sketching, but the sketches were no good. I went through Eventually, I forced myself to start on a new Mosebacke Horse, because if you just start working, inspiration may come.
But today, the inspiration and the positive thoughts did not come from hard work. It came from a phone call with a very challenging and inspiring proposal. I can't tell you what it is about right now, but I can tell you that my answer was yes.
I took about five minutes for my day and my inspiration to go from the bottom to the top! Now I am eagerly awaiting tomorrow so I can continue the project that I just started!