Now I am going to start a new project, a project that I am a little bit scared of, or at least have a lot of respect for.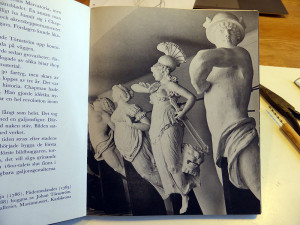 I have realized that I have come to the point in my artistic development when it is time to honour my ancestor, the famous Swedish sculptor Johan Törnström. He was born 18th April 1744 and reached the age of 84 years. At a young age he proved to be very artistic and was soon commissioned to do the decor in the royal palace in Stockholm for King Gustav III. 1781 he was recruited to the great wharf in Karlskrona in the Southern part of Sweden to create figureheads to be placed on the stems of the Swedish Warships that was built there. The several meters high figureheads were carved in wood (pine) and often symbolized the name of the ship.
He is very well represented in the Swedish Naval Museum – that is awarded Museum of the Year 2015. Click on this link to see he Figurehead Hall in this museum.
In the coming days you will be able to follow my project when I create my own version of a figurhead in polymer clay. Of course it will be a figurehead horse – or should it be called a figurehorse?