Friday and Saturday were two days with two fabulous workshops that really stretched your artistic way of thinking and understanding shapes, colors and materials. I had one fullday Workshop with Loretta Lam: "Sculpted Foliage Brooch or Pendant" and one fullday Workshop with Donna Greenberg: "Melting Colors/Dancing Waves Techniques".
Both Loretta and Donna are very experienced teachers that not only fully understand shapes and color, but also can explain that in an understandable way to help their students stretch in their artistic development. They give very personal, helpful and clear advice on what to add or remove, what to enhance and what is too "lame".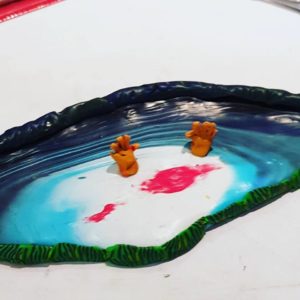 Of course I did not make any jewery (I never make jewelry), but in Lorettas class I wanted to give the impression of the surface of a lake by creating some kind of "circular skinner blend" with the Swedish mythological spirit "Näcken" in mind.
My purpose was to place three small drops pf blood in the water to symbolize that he, by recieving this gift, would teach you his enchanting form of music. The red would also be a counter-color to all blue and green in my composition. But something went terribly wrong. I added too much red  (impossible to remove). When I showed Loretta how I had killed my composition she suggested me to place some hands on the water. So I did. And the result also told a story, but in another way than I had thought from the beginning. Now it's not a subtle saga, now it's something humoristic and drastic that makes you laugh.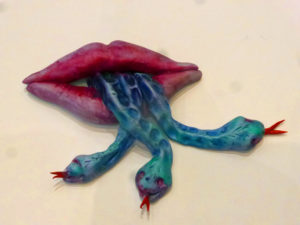 In Donna's class we tried making different soft shapes with white or lightly colored clay. To my astonishment I found that if you add just a little of green to the white clay, it gets shimmering shadows. Other colors don't give that shimmer to the clay. Our inspiration was Verdi's opera La Traviata. I made many different shapes, but the ones I chose to save to color in the afternoon was a horse's head, surrounded by sun rays (a tribute to all the interesting jugend designs you could see at the hotel) and a mouth with snakes coming out of it (a tribute to the story of La Traviata, where things people say cause tragic things to happen). It was very interesting to try the Genesis Heat Set Oil Paints