One of my very dear polymer clay friends is Christi Friesen. A couple of years ago, when we were cruising and polymerclay-workshopping in the Caribbean, she encouraged me to do some mosaic work with polymer clay.  I created a little something, but I was not happy with it. As you understand – the idea started to grow inside my creative mind and a couple of weeks ago I started the creation of this mosaic horse – MoseAik (as he comes from Mosebacke Horse Sculptures).
Now he is finished, and in the pictures below you can see what he looks like. His height is 27 cms to the neck.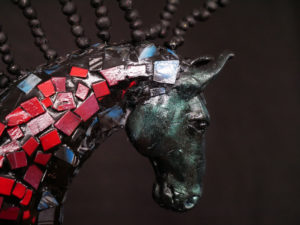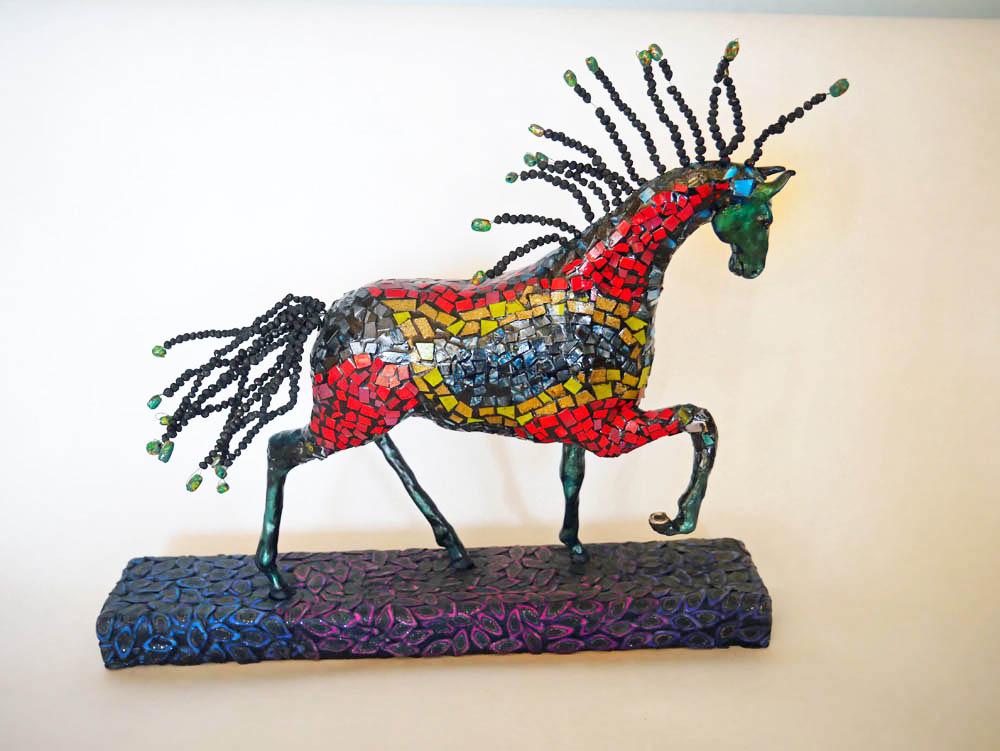 MoseAik
MoseAik är en unik hästskulptur från Mosebacke Horse Sculptures, skapad i polymerlera. Som alla andra hästskulpturer härifrån finns den endast i ett enda exemplar och är signerad av konstnären EvaMarie Törnström.
MoseAik är en hästskulptur med ett spännande mosaikmönster sin kropp medan huvud och ben har ett metalliskt blågrönt skimmer. Manen och svansen består av pärlor i polymerlera, och eftersom de sitter på trådar av stål, kan du arrangera dem som du själv vill. Den bas som MoseAik står på är täckt av canes (mönster) som är skapade i polymerlera. Hästskon är i äkta silver och är naturligtvis även den skapad av EvaMarie.
MoseAik är 27 cm hög.