MoseAik
2 800,00 kr
MoseAik är en unik hästskulptur från Mosebacke Horse Sculptures, skapad i polymerlera. Som alla andra hästskulpturer härifrån finns den endast i ett enda exemplar och är signerad av konstnären EvaMarie Törnström.
MoseAik är en hästskulptur med ett spännande mosaikmönster sin kropp medan huvud och ben har ett metalliskt blågrönt skimmer. Manen och svansen består av pärlor i polymerlera, och eftersom de sitter på en tråd av stål, kan du arrangera dem som du vill. Den bas som MoseAik står på är täckt av canes (mönster) som är skapade i polymerlera. Hästskon är i äkta silver och är naturligtvis även den skapad här på Mosebacke Horse Sculptures.
MoseAik är 27 cm hög till nacken.
Related Products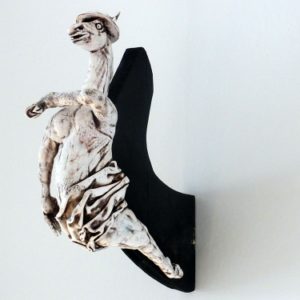 Prudence
Prudence is a Mosebacke Horse Sculpture, created in polymer clay.
Height about 25 cm.
This is a figurehead horse in honour of my ancestor Johan Törnström, one of Sweden's most well-known figurehead sculptors. I have come to understand that he was a very special, a very creative and a very temperamental person.
His artistic talent was so strong that it is still found among his descendants hundreds of years later, including me. It is a heritage which is important to take care of, and I am beginning to understand that I am not doing it just for myself and my own wellbeing, but for the whole and old Törnström family.
not rated
3 300,00

kr
Lägg i varukorg