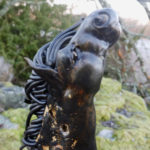 For me, this horse is one of my very joyful experiments that turned out really well. From the beginning it was a curious horse, but during the artistic and creative journey it first became a dancing horse, then it got the name Chivas III.
The entire horse radiates joy, a joy that is expressed by a wild and free dance, beyond the borders of possibility. It is almost as you can hear the music. The horse is caught in action when he stretches out fully, standing on one leg with the other leg stretched upward reaching for the sky. The head is thrown back and front legs are also stretched in an upward motion.
The basic color of the body is black, with small irregular golden crevices that sparkle in the sunlight and further emphasizes the natural joy and creates contrasts that create movement and that gives wings to imagination.
Until February 11 (if it hasn't been bought before that) you'll find Chivas III at Boställets Vedugnsbageri and Mosebacke Horse Sculpture's webshop.