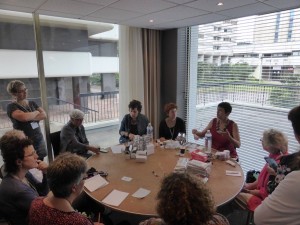 To travel is not just to travel physically. A large part of the trip is done not physically but in your own mind. When you go away you prepare yourself by learning more about the destination, booking transport and accommodation and you calculate how much time you will want to spend on different places and experiences. In this way you have prepared your mind for the coming experiences and can thus more easily be in the moment and simply enjoy everything that is happening around you.
It is in a similar way also on the return journey. You say goodbye to the place you are in before you physically begin the journey home. But – when travelling home from EuroSynergy2 in Bordeaux, I missed this because I catched a severe flu the day before departure. Throughout the trip home I had a high fever and it was really nice to arrive at Linkoping City Airport because 30 minutes I could be in my own bed. But still it feels as though something is missing – as if I really hadn't had the time to say goodbye to France.
Now it has been a week since I returned home, and I have finally recovered from the flu. What I have left are wonderful memories of a wonderful polymer clay conference with wonderful and caring people from all corners of the world.
It is amazing and there is such a tremendous force in meeting people with different experiences, culture, knowledge and skills. How all these people selflessly and openly share with each other. No question was too small or too difficult. All answers and discussions took place with great respect and honesty.
I am so grateful to be a part of this wonderful polymer clay community! Hope we meet again soon!
Click here to see more photos from the EuroSynergy2 in my Facebook album!
Click here to see more photos from Bordeaux in my Facebook album!