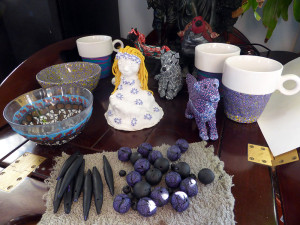 Today I have been holding a Polymer Clay Workshop here at Mosebacke Horse Sculptures in Östra Harg, Linköping. There were a total of seven participants aged from under ten to over fifty.
We started with coffee and watched videos from YouTube that showed how to create various kinds of polymer clay canes. When we went to the work table, the first task for the participants was to select the object (mug or glass bowl) they wanted to decorate or to create an object in polymer clay. And as they were highly creative people most of them created their own objects! A cat, an angel, a horse, a bird and two dogs came to life on the work table.
Then it was time to create the canes. The participants choose colors and then I suggested different types of canes, which they then created, following my instructions.
While we had lunch our canes were outdoors (it was two degrees centigrade) to cool down. Then it was time to place thin slices of their canes on the various objects. It was so amazing to see how the participants literally lit up when they saw how the patterns combined and made the objects unique and sumptuous. Now they immediately wanted to make even more canes and the joy of creating would almost never end.
In this Facebook album you can view photos from the workshop.
Next Polymer Clay Workshop will be held April 23 2016. The cost will be 400 SEK per person and you can register by sending an email to evamarie.tornstrom@mosebackeord.se