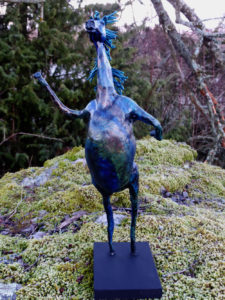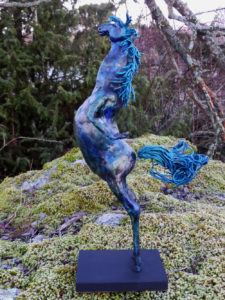 When a Mosebacke Horse Sculpture gets the name Chivas you immediately know that it is a horse that carries a lot of joy and dancing within him.
This Chivas is no exception. He stretches toward the sun, full of confidence and joy. He is probably absolutely aware that the sunshine makes him shine even more. Under his outer layer of translucent clay is in fact a layer of sheet copper – tinted in various saturated blues and greens.
As all Mosebacke Horse Sculptures Chivas No 1 is a totally unique horse – movements and body colors.
His small and slender hooves completes his moving posture, and his vivid facial expression shows how much he likes that you are watching him showing his best side in the sunshine.