About Round
2 200,00 kr
About Round is a Mosebacke Horse Sculpture created in polymer clay, with four horse shoes in real silver. The horse shoes are also hand made by EvaMarie.
About Round is an exploration of the form "round", investigating if it could be possible to place four legs and one head on a round form, and it still would be a horse. The answer is that is made a wonderful and lively horse, full of joy and with lots of colors. On the neck you can admire a kind of polymer clay cane called "Stroppel Cane".
Read more about and follow the creation of About Round in my blog.
Width: 26 cm
1 i lager
Related Products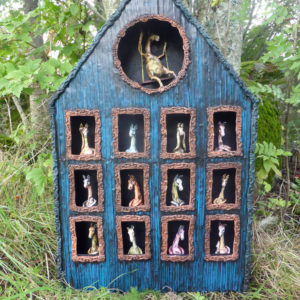 A house for happy horses
I think that a great deal of the inspiration for this – my biggest creation so far – comes from Georg Dinkel, which I met at Synergy4 in Philadelphia in Augusti 2017. He builds large and absolutely stunning buildings in polymer clay, which are populated by the most amazing creatures.
So I began to think.
My Mosebacke Horses also need somewhere to live. Why not in a house? A real horse house?
This is the result. The frame is made of a particle board (thanks Beijer Bygg in Linköping for sawing according to my design), which I then covered with "wood" and "bricks" and "knots" and "winds" of polymer clay.
On each of the three floors there are four Mosebacke Horses. Some look a little bit more angry, but they all are very excited about having a big window that they can look through. The windows frames resemble picture frames, so all the horses look like three-dimensional paintings.
At the top is the happiest horse of them all – because that horse lives in the hay loft where there is a swing. So it's a rocking horse  (Gunghäst in Swedish.)
Dimensions
Height 92 cm
Width 56 cm
Depth 13 cm
not rated
10 900,00

kr
Lägg i varukorg