Madrugada
1 400,00 kr
Madrugada är en helt unik och signerad Mosebacke Hästskulptur. Den är 22 cm hög och skapad i polymerlera över en bas i betong. Hästen har ett uttrycktfullt ansikte och leran skiftar i soluppgångens alla varma färger. På ryggen finns ett äkta Gusum blixtlås som visar att hästens insida skimrar av guld. Det är bladguld som fått krackelera över ett komplcerat mönster som skapats i leran.
1 i lager
Related Products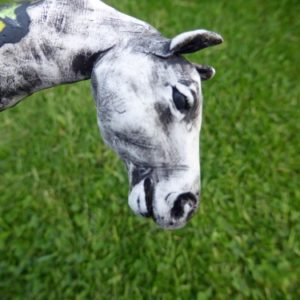 About Round
About Round is a Mosebacke Horse Sculpture created in polymer clay, with four horse shoes in real silver. The horse shoes are also hand made by EvaMarie.
About Round is an exploration of the form "round", investigating if it could be possible to place four legs and one head on a round form, and it still would be a horse. The answer is that is made a wonderful and lively horse, full of joy and with lots of colors. On the neck you can admire a kind of polymer clay cane called "Stroppel Cane".
Read more about and follow the creation of About Round in my blog.
Width: 26 cm
not rated
2 200,00

kr
Lägg i varukorg