Now there is paint all over the canvas. It is a good start, and now I can begin to understand the painting, to understand if the colors I have chosen will be the right ones. I still have the possibility to make the background darker or lighter – or the horse darker or lighter.
I think I like it. I like the warm and earthy colors, and I will stay with them – hopefully they will get more depth when I continue building up this painting, layer by layer.
As you can see, I use blue tones at the muzzle, lips and nostril. There is also some blue on the jaw. I play with a deep red hue as a contrast to the colder (but still warm) blue. The middle of the face is quite dark.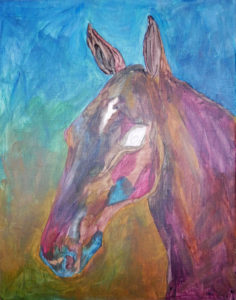 Next photo shows the first hint of an eye – and you can begin to see the contour of the soft muzzle. I am using mostly brownish hues to find the shape of the head.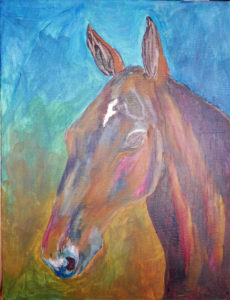 Next I am trying to find the shape of the face, to follow the "lines". I also work with the eye – that is the most important part of the painting. If the eye is not good – the painting as a whole will not be good. I am not happy with the contour on the right side of the head, so I make some small adjustments to it.
Ears are also a very important part of a horse, because horses speak a lot with their ears. I put some shades in and around the ears to give them more life.
Follow my blog to see what happens next!