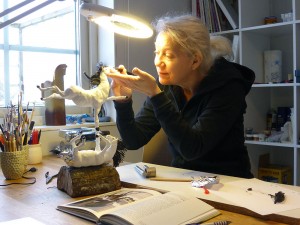 EvaMarie Törnström lives in Mosebacke that is situated in the countryside in the southern part of Sweden, 20 kms from Linköping.
She comes from a family of artists and has always been practising art, has always been encouraged and close to constructive criticism. Her ancestor Johan Törnström was one of Sweden's most well-known figurehead sculptors.
After high school she was thinking about art school but choose instead university programs in both chemistry and communication.
– In retrospect, I realize how close to "art" these are because chemistry is very close to creativity and communication – well, what is art if not communication? EvaMarie says.
Now, when her four children have left home, she finally has the time to wholeheartedly invest in art again. And you can follow her on that wonderful journey in the blog on this website!
I love horses
– Almost all my art is about horses. I have made that choice because you can enjoy these wonderful creatures even if you're not a "horse person". Horses have for a very long time been very important for mankind, it can be seen through millennia of paintings and sculptures.
Although most of us no longer need horses for transportation the large number of horses and the great interest in them proves that horses still are very important to us to make us feel good. Click here to read Top 10 Reasons Why I Love Horses from Five Star Ranch.
EvaMarie meet a lot of horses and horse owners regularly, and takes horse riding lessons (mainly dressage) at least once a week. She has taken university courses in both Animal behaviour and Horse behaviour to get a better understanding all living creatures and their relations to eachother.
– Through my art I want to show how beautiful and inspiring horses are. I want to make people be able to feel close to horses, even when they are not near a real horse. I want to give constant reminders about how fantastic creatures horses are.
Awards
2015 International Polymer Clay Award Winner
Member of
International Polymer Clay Association
Makerspace Linköping – Makerslink
Upcoming presentations
Presentation "It's all about horses", IPCA Synergy4, Phildadelphia, USA, August 14 2017
Upcoming workshops
Meet the Mosebacke Horse Sculptures
Boställets Vedugnsbageri January 21 – February 11 2017
Romele Konsthall Jurybedömd Salong – September 16 – 24 2017
Mosebacke Horse Sculptures Webshop – Always
Read more about the artwork
Cheval Magazine . Ljuvliga skulpturer med karaktär
International Polymer Clay – Sept-Oct 2016
Hon vill lyfta fram polymerleran – Corren
Polymer Journeys 2016 – The Art and Craft of Polymer
The Polymer Arts Blog – The Equine Attitude on Scrap Clay
The Polymer Arts Blog – Conceptual Horses
The Polymer Arts Magazine Fall 2015
Aftonkuriren – Polymerlera . kommande konstnärsmaterial i Sverige