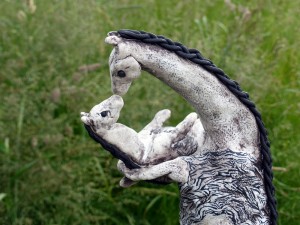 EvaMarie Törnström, polymer clay horse artist:
Horses are wonderful creatures. When I create a Mosebacke Horse Sculpture  I interprete and develop those special characteristics of a very special horse. An owner of a Mosebacke Horse has got a personal and unique piece of art, created to celebrate the very special bond between horses and humans.
Mosebacke Horse Sculptures are created in polymer clay. It is a special and versatile clay for artists that not only has unique characteristics when it comes to the possibility of forming shapes, but also when it comes to colors. The fabulous and intricate patterns you can see on many Mosebacke Horses are not painted but created in polymer clay too. I use a high quality brand of polymer clay called FIMO Professional.
My inspiration comes mostly from existing horses that i interprete to create horses that has not previously been seen. I ask myself questions like: What do horses really do? What are the limits of a horse? What do they say and dream about?  What are they doing when we are not looking? If you put a horse in another environment, what will happen?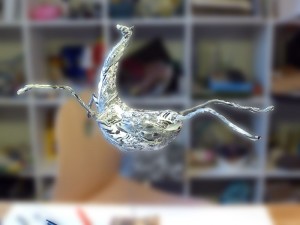 How a Mosebacke Horse is created
I start with a very simple sketch, then often the horse makes its own voice heard during the creation. Thus it will not always be as I imagined from the beginning, but usually much better.
Because the clay is so soft a horse needs to have a skeleton/armature of steel wire and aluminum foil. Sometimes I also use tiny bamboo sticks. Then I build the shape of the horse in polymer clay. It is a time-consuming work where I study the horse from different directions and angles. It is at this time I create the appearance, feeling and what I want the horse to express.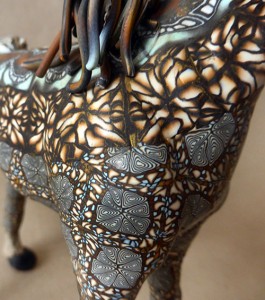 Different surface techniques
The really exciting part of the work is creating the surface – the skin – with colors, patterns and textures. Here are a lot of possibilities in a lot of different techniques. These show the real opportunities of polymer clay, because the complex patterns are not painted, they are made of the clay colors itself.